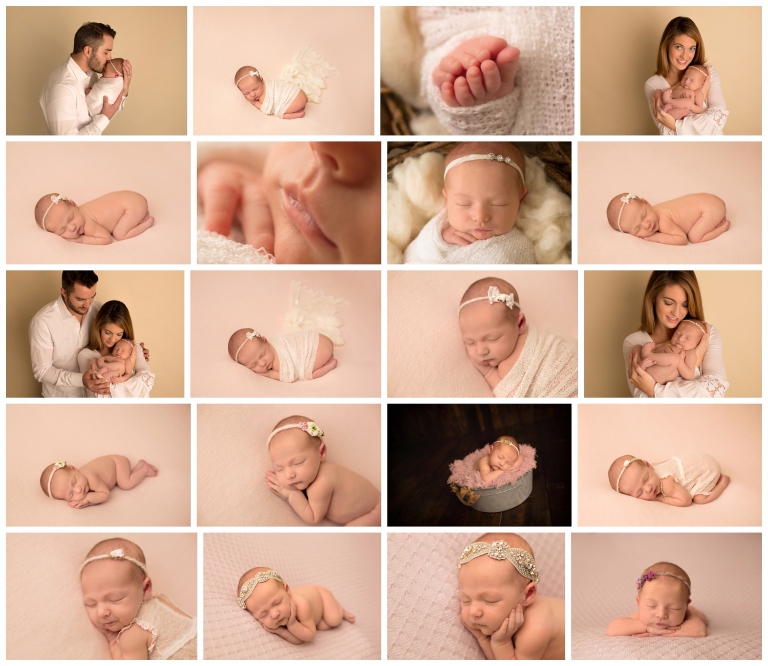 There is nothing quite like seeing your newborn baby for very first time… If you're lucky, you have friends and family have recently had their first baby and can offer you some advice and support as you navigate your way through pregnancy, delivery, the newborn stage and into the baby and toddler years.  It's a challenging road, but one that you will never regret traveling and certainly never regret documenting!!
One of the biggest compliments I can receive is an inquiry or booking from a past (or current!) client referral.  I love knowing that my families not only cherish the images we've captured, but also confidently refer their friends, knowing that the experience will be enjoyable and imagery will be treasured forever.  It's such a small world when we consider the extent of our relationships through social media.  This gorgeous family found me after seeing an old friend's newborn session images posted on Facebook.  🙂  Sweet Hadley was 13 days old for her newborn session and just as pretty as can be. I love the soft pinks that her mom chose for this session.  We even used mom's gorgeous bridal garter as a headband in the bottom, middle images!  What a great idea!
Are you looking for an experienced and trained newborn photographer in the Nashville, TN area?
Laura Janicek Photography is currently booking into April 2017 with limited availability each month. Please contact me using the contact form at the top of the page (desktop) or the bottom of the page (mobile) to inquire or schedule your session!
Email: laura@laurajanicekphotography.com
Facebook: https://www.facebook.com/laurajanicekphotography/
Instagram: https://www.instagram.com/laurajanicekphotography/
(new!) YouTube: https://www.youtube.com/channel/UCO01WimxGglgEOnkichfQsA
(new!) Pinterest: https://www.pinterest.com/laurajanicekpho/
Laura Janicek Photography specializes in newborn portraiture as well as maternity and baby's first year imagery; serving the greater Nashville area, with a full service studio location in Brentwood, TN.
Save
Save