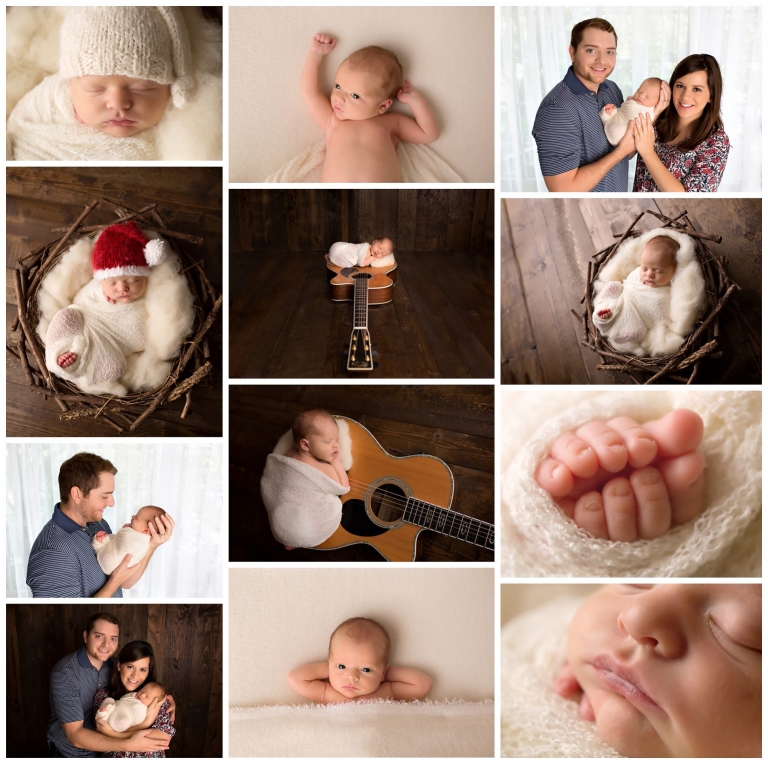 People always assume that new babies sleep around the clock (except maybe in the middle of the night, of course!)  And while it DOES seem like they sleep all the time during the first few weeks of life, believe it or not, all babies have periods of awake time during the day.  Those newborn awake periods can last as long as 90 minutes and sometimes longer!  You may not always notice it because they DO sleep a lot and parents and caregivers are often a bit sleep deprived themselves… but one place that we always notice an awake baby??  In a newborn photography session!
As you can see in some of his pictures here, baby Waylon was one of those newborns who didn't want to miss a thing.  😉  He was a sweetheart- just very curious!!  It's definitely more challenging to photograph an awake baby, but as long as the baby isn't upset and crying we can usually get some pretty good shots.  That being said, they tend to not want to be posed for a wide variety of more classic newborn shots that you were likely hoping for when you booked your session…  This can ultimately result in a more limited gallery than we'd like.  In order to battle the awake baby situation during my newborn sessions, I provide my clients with very detailed instructions on how to best prepare themselves and their baby for their photography session.  The preparation can actually start the day before the session!  It's not too challenging, but it does require some planning.  And in the end, it's all worth it.  Not all babies sleep the entire time, but when parents are diligent about following the guidelines, we tend have a beautiful overall experience.  Your session should be relaxing, enjoyable and exciting as you get to watch your baby looking oh-so-adorable.  And the bonus?  You'll get to relive the the memories of your baby in his or her fleeting first days over and over, as you enjoy your newborn images for a lifetime.  🙂
Are you looking for an experienced and specially trained newborn photographer in the Nashville, TN area?
Laura Janicek Photography is currently booking into April 2017 with limited availability each month. Please contact me using the contact form at the top of the page (desktop) or the bottom of the page (mobile) to inquire or schedule your session!
Email: laura@laurajanicekphotography.com
Facebook: https://www.facebook.com/laurajanicekphotography/
Instagram: https://www.instagram.com/laurajanicekphotography/
YouTube: https://www.youtube.com/channel/UCO01WimxGglgEOnkichfQsA
(new!) Pinterest: https://www.pinterest.com/laurajanicekpho/
Laura Janicek Photography specializes in newborn portraiture as well as maternity and baby's first year imagery; serving the greater Nashville area, including Brentwood, Franklin, Murfreesboro, Spring Hill, Dickson, Smyrna, Nolensville, Hendersonville, Clarksville and more with a full service studio location in Brentwood, TN.
Save