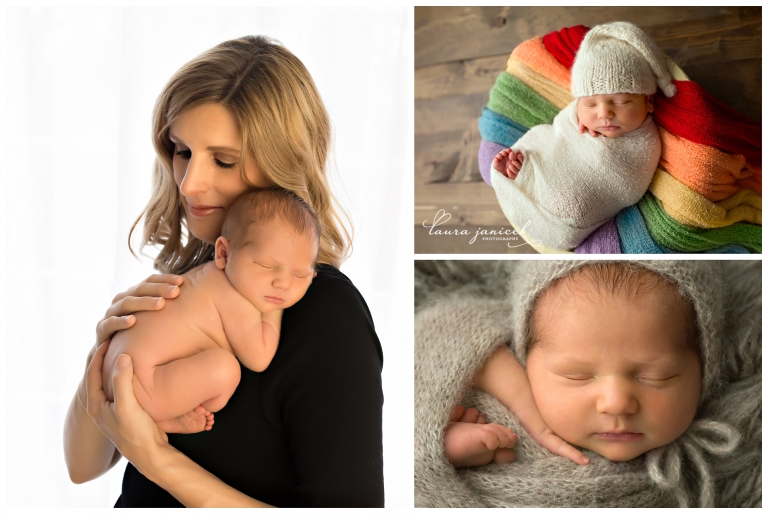 I had the absolute pleasure of working with this gorgeous family and their little rainbow baby…
A "rainbow baby" is a baby that is born following a miscarriage, stillbirth, neonatal death or infant loss.In the real world, a beautiful and bright rainbow follows a storm and gives hope of things getting better. The rainbow is more appreciated having just experienced the storm in comparison.
The storm (pregnancy loss) has already happened and nothing can change that experience. Storm-clouds might still be overhead as the family continue to cope with the loss, but something colorful and bright has emerged from the darkness and misery (http://www.kickscount.org.uk)
Are you looking for an experienced, specially trained and award winning newborn photographer in the Nashville, TN area?
Laura Janicek Photography is currently booking newborn, milestone and maternity clients into July 2017 with limited availability each month. Please contact me using the contact form at the top of the page (desktop) or the bottom of the page (mobile) to inquire or schedule your session!
Email: laura@laurajanicekphotography.com
Facebook: https://www.facebook.com/laurajanicekphotography/
Instagram: https://www.instagram.com/laurajanicekphotography/
YouTube: https://www.youtube.com/channel/UCO01WimxGglgEOnkichfQsA
(new!) Pinterest: https://www.pinterest.com/laurajanicekpho/
Laura Janicek Photography specializes in newborn portraiture as well as maternity and baby's first year portraits; serving the greater Nashville area, including Brentwood, Franklin, Murfreesboro, Hendersonville, Clarksville, Spring Hill, Dickson, Smyrna, Nolensville, Hendersonville and more with a full service studio location in Brentwood, TN. Laura earned an 'Excellence in Newborn Photography' award from NewbornPhotographers.com, as well as a merit award from the National Association of Professional Child Photographers.  Laura Janicek Photography is also named as one of Nashville's Best Maternity photographers by Expertise.com.
Save