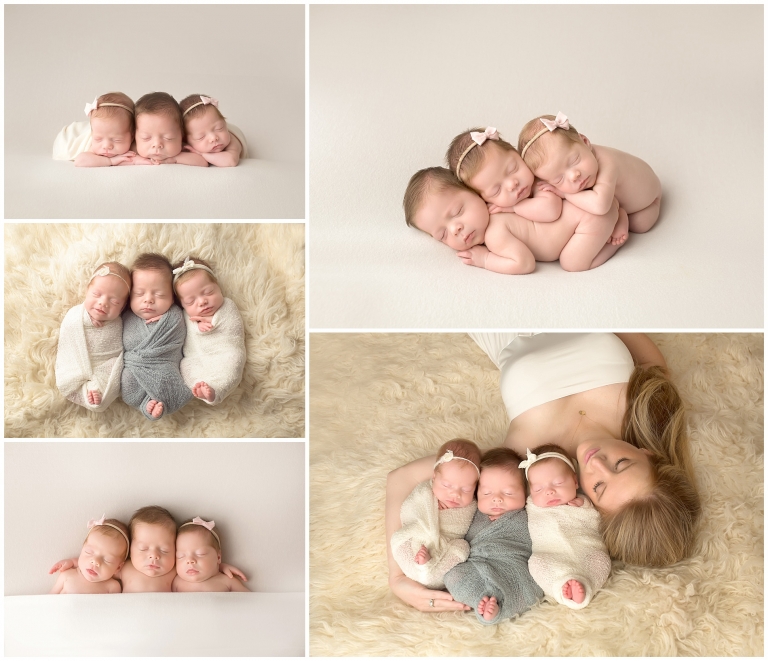 I was so excited to get to finally meet this beautiful family and their triplets yesterday for their newborn session… When we were in the process of booking this photoshoot back in July, we anticipated a September delivery at about 36 weeks.  Well, these little ones had other plans!!  Mom contacted me that same afternoon to say she was actually delivering now… at 28 weeks.  The babies were born at a tiny 2.5 and 3lbs and spent 9 long weeks in the NICU before they were able to head home last week.  Talk about being worth the wait!   We scheduled their newborn shoot for the week after they all got home from the hospital and they were awesome.  It was the 37.5 week mark on the day of their session and they had grown to 5.5lbs to 7lbs!  What a gorgeous little group they are!!  And could their mom be any more gorgeous?  Huge thank you to my awesome assistants Evie Lynn Photography & Ogilvy Images.  They were so helpful during this session and I could NOT have created these group shots without their help.  It was definitely a team effort… And so worth the effort!!!  🙂
Are you looking for an experienced, specially trained and award winning newborn photographer in the Nashville, TN area?
Laura Janicek Photography is currently booking newborn, milestone and maternity clients into April 2018 with limited availability each month. Please contact me using the contact form at the top of the page (desktop) or the bottom of the page (mobile) to inquire or schedule your session!
Email: laura@laurajanicekphotography.com
Facebook: https://www.facebook.com/laurajanicekphotography/
Instagram: https://www.instagram.com/laurajanicekphotography/
YouTube: https://www.youtube.com/channel/UCO01WimxGglgEOnkichfQsA
(new!) Pinterest: https://www.pinterest.com/laurajanicekpho/
Laura Janicek Photography specializes in newborn portraiture as well as maternity and baby's first year portraits; serving the greater Nashville area including Brentwood, Franklin, Murfreesboro, Hendersonville, Clarksville, Spring Hill, Dickson, Smyrna, Nolensville, Hendersonville and more with a full service studio location in Brentwood, TN. Laura earned an 'Excellence in Newborn Photography' award from NewbornPhotographers.com, as well as a merit award from the National Association of Professional Child Photographers.  Laura Janicek Photography is proud and honored to be named as one of Nashville's Best Newborn Photographers and one of Nashville's Best Maternity photographers by Expertise.com.