Today I'm sharing a sample gallery from one of my Complete Newborn Sessions.  This classic session includes 2.5 hours photographing your baby and family and 20 retouched images of your choice, chosen from an online proofing gallery.  Many soon to be parents know that they want professional pictures of their newborn baby, but between birth photography, lifestyle photography, posed newborn, studio sessions and in-home sessions, it can be hard to know exactly what you're most interested in and where to find it!  My newborn photography is considered in-studio and posed newborn, but I like to add in a few less 'posed' pictures as well. 😉  The last thing I want is for you to feel (or even worse, look) uncomfortable in pictures that you'll keep forever.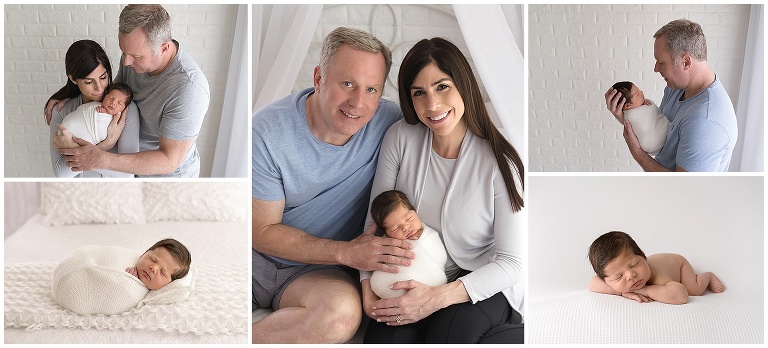 These pictures will be on your walls and your coffee table for a long time.  I try to make sure the resulting images are a timeless and classic reflection of you, your baby and your family at this life changing moment in time.  You don't have to be looking at the camera and smiling in every photo.  Looking down at your baby and sitting with your baby as you would at home make for beautiful, emotional images that will take you back in time as your baby grows.

As you can see, I like a lot of white in newborn pictures because it tends to compliment the purity and newness of your baby.  You can't go wrong with white- it will never go out of style!  I do like to incorporate some soft, complimentary tones, textures and colors as well.  I think these things enhance the overall look of your images without distracting from your baby as the main focus.  Soft greys, blues and pinks tend to be the most popular secondary colors.  I usually advise mom and dad to wear clothes in that same general tone so the whole session flows together nicely in an album or in a collage on your walls.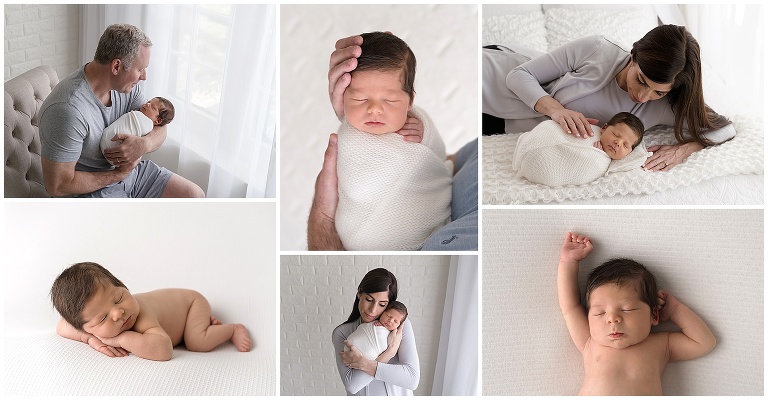 Never underestimate the power of textures!  Texture adds subtle interest without trying too hard.  ;). You can see various textures throughout the images shown here to get a feel for a typical newborn gallery.  While there is a lot of white, it's not all the same throughout.  You may not even notice the textures at first.  You might just notice that the image feels finished and pulled together vs plain or empty.  That's the texture!  It adds variety to the gallery while the light tones help keep the gallery pulled together and coordinated throughout.

You can't go back later and redo your newborn session, so it's definitely important to do your research when it comes to newborn photographers.   It's best to do your research and get your session booked well before your deliver.   As early as two weeks after birth, babies start to stretch out (like this little guy above!) and wake up, making these types of images much more challenging to capture.  I've detailed my newborn session options out for you on my 'session information & pricing' tab in the main menu.  Please let me know if you have any questions about scheduling with me or about newborn photography in general.  🙂
Best of luck!