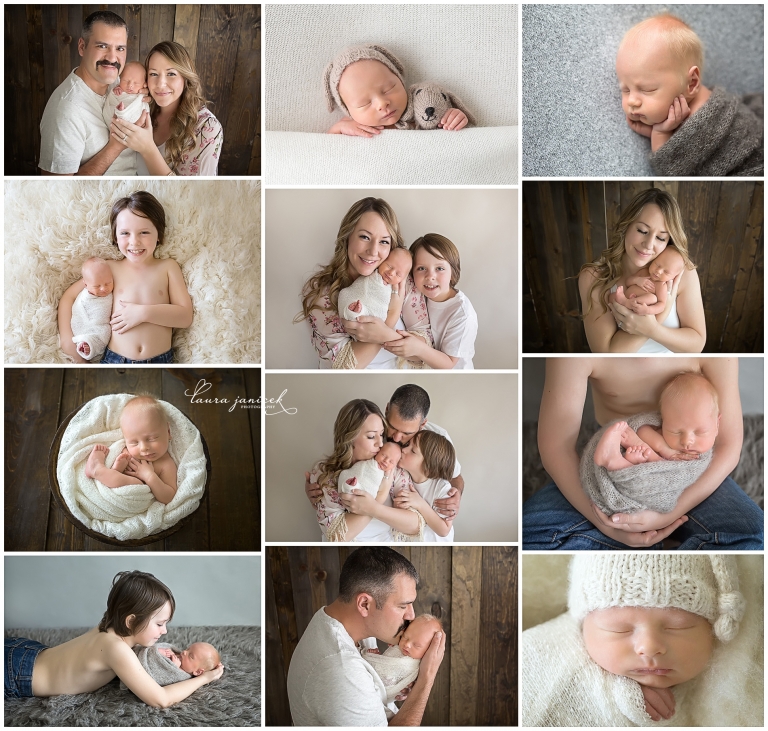 This is my dear friend Evie Deaton (with Evie Lynn Photography) and her beautiful family as they welcomed baby Chase to their family last month.  Evie regularly helps me with my twin and triplet newborn sessions, so I was thrilled to photograph HER this time!  🙂 She struggled with infertility for years, so the birth of baby Chase is even more extra special.  She adored being pregnant and documented her IVF and pregnancy journey on social media.  It was so heartwarming to get to see these guys in the studio and to celebrate with them 10 days after he was born.  He was a doll to work with and this is just a small sample of the images from his newborn session.  So thrilled for this family!
Are you looking for an experienced, specially trained and award winning newborn photographer in the Nashville, TN area?
Laura Janicek Photography is currently booking newborn, milestone and maternity clients into November 2017 with limited availability each month. Please contact me using the contact form at the top of the page (desktop) or the bottom of the page (mobile) to inquire or schedule your session!
Email: laura@laurajanicekphotography.com
Facebook: https://www.facebook.com/laurajanicekphotography/
Instagram: https://www.instagram.com/laurajanicekphotography/
YouTube: https://www.youtube.com/channel/UCO01WimxGglgEOnkichfQsA
(new!) Pinterest: https://www.pinterest.com/laurajanicekpho/
Laura Janicek Photography specializes in newborn portraiture as well as maternity and baby's first year portraits; serving the greater Nashville area including Brentwood, Franklin, Murfreesboro, Hendersonville, Clarksville, Spring Hill, Dickson, Smyrna, Nolensville, Hendersonville and more with a full service studio location in Brentwood, TN. Laura earned an 'Excellence in Newborn Photography' award from NewbornPhotographers.com, as well as a merit award from the National Association of Professional Child Photographers.  Laura Janicek Photography is proud and honored to be named as one of Nashville's Best Newborn Photographers and one of Nashville's Best Maternity photographers by Expertise.com.