Newborn:
I have a special love for newborns having cared for four of my own…  They grow way too quickly!  There's nothing more exciting or more rewarding than becoming a parent.  I look forward to celebrating your brand-new baby while you take some time to relax.  I have a wide variety of soft backdrops, cozy wraps, dainty headbands, beautiful hats and other timeless props to help highlight all of the details of your precious new love.
When to Schedule:
It's best to schedule your newborn session during your pregnancy.  I will add your due date to my expectant mother's calendar, but we will finalize your session date and time once baby is born.  The most ideal time for newborn sessions is between 5-14 days old.  After the first 2 weeks of life, babies tend to lose their curly, sleepy, womb-like behavior.  For that reason, I ask that you contact me from the hospital to set up your actual session date and time as soon as baby arrives.  From there, we will talk in further detail about the specifics of your session and about how to best prepare.  I will make sure are ready and all of your questions are answered!
Of course, sometimes baby arrives before you've had a chance to book a newborn photographer.  I do occasionally have room in my schedule to accommodate last minute newborn sessions, so please don't hesitate to contact me!  I will try my very best to fit you in, even if your baby has already arrived.
Newborn sessions, including a selection of prints and digital images (with print release), start at $500.  A few days after your session you will receive a password protected, online gallery of mostly 'soft proofed' images from which to choose your favorites.  Once you select your favorites, I'll retouch them to perfection and get them back out to you to keep!  Parents often love the fact that they get to see a wide variety of images from their session and ultimately get to choose their favorites.  If you find that you can't limit yourself to the number of images in your session package, additional images may be added to your final gallery for a per image fee.  Feel free to contact me if you have any questions or would like to reserve your due date!  🙂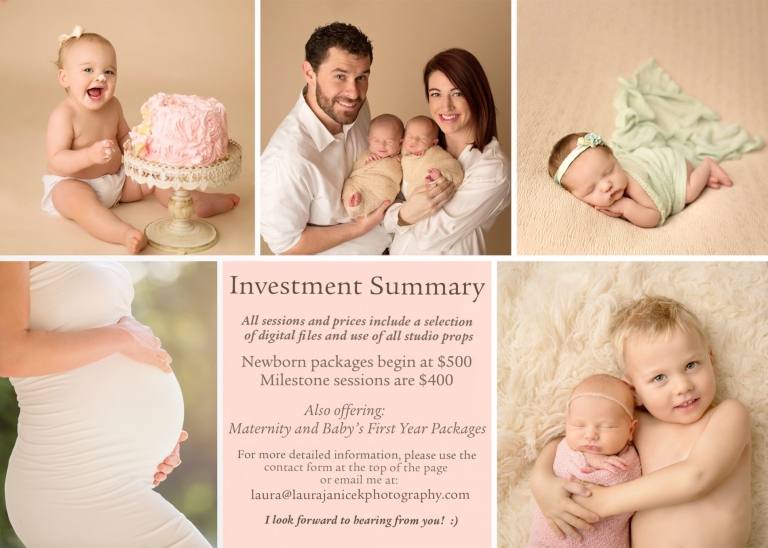 Save