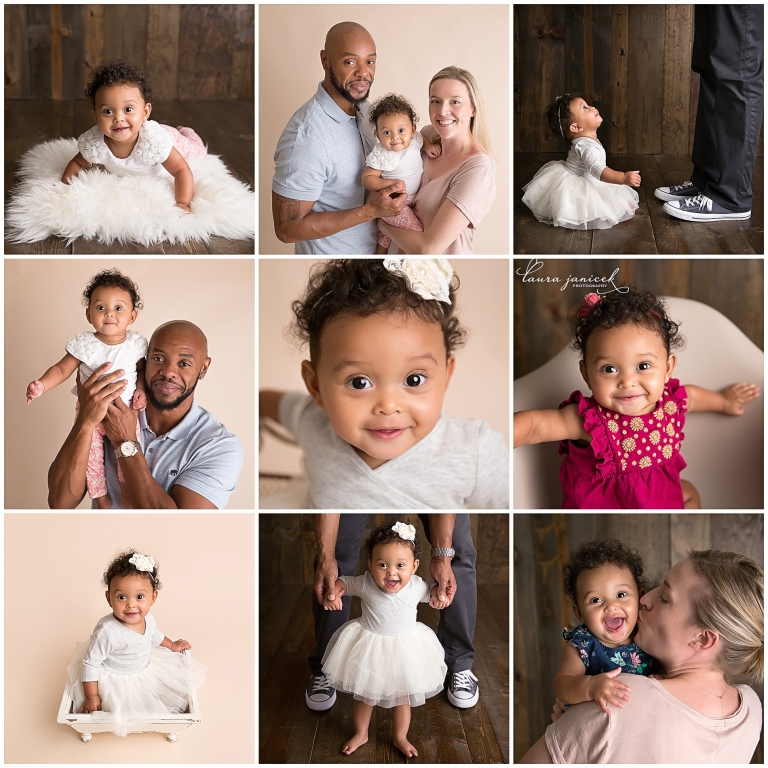 6th Month Old Photography
Milestone sessions are a lot of fun for a number of reasons and quite a bit different from a newborn photography session. First- mom and dad have had a chance to get used to life with baby.  When the baby is 6 months old, a photo shoot seems a lot less intimidating than it did when baby was just 5 days old!!  Babies are typically very interactive at 6 months and haven't developed their fear of strangers just yet.  From my perspective, they tend to smile and laugh fairly easy at the littlest things.  Some of their favorites are fake sneezes, fake coughs, animal sounds, peek a boo, clapping for them, cheering for them and even something as simple as giving them your own big smile.  While I tend to move slowly during newborn sessions, milestone sessions move at a much faster pace.  Baby only has a certain window of time before he or she is 'over' the photo shoot.  And as we all know by now, baby's in charge!  😉 I find that they get worn out by about the 45 minute mark.  We try to get a variety of poses and expressions fairly quickly so that baby doesn't tire before we've gotten all of the looks we're going for.  We can typically squeeze out a few extra minutes, but we'll be wrapped for sure after about an hour. I aim to have at least one outfit change during these sessions and we'll use a variety of backgrounds and studio props.  If baby handles clothing changes well and is giving us lots of expression throughout the session, we'll try to get a third outfit in.  I do have some beautiful and unique outfits on hand in the studio for my newborn, 6 month and 12 month sessions.  These outfits are handmade specifically for baby photographers and they photograph beautifully.  I encourage bringing a few options from home so that we have plenty of options and then using a combination of personal and studio-borrowed outfits for the session.
This is baby Gracen… She has a super happy and easy going personality, so we were actually able to get FOUR clothing changes in during her session!  Mom brought plenty of adorable outfits from home, so we stuck with those rather than looking through the studio options.  We did take some time at the start of the session to prioritize which outfits we liked best so that we were sure to wear our favorites first.  We never know when baby will decide to melt down, so prioritizing the clothing in order of importance is a must!  Can't wait to get her back in the studio for her one year session!  🙂
Are you looking for an experienced, specially trained and award-winning newborn or baby photographer in the Brentwood, Franklin and Nashville, TN area?
Laura Janicek Photography is currently booking newborn, milestone and maternity clients into July 2018 with limited availability each month. Please contact me using the contact form at the top of the page (desktop) or the bottom of the page (mobile) to inquire or schedule your session!
Email: laura@laurajanicekphotography.com
Facebook: https://www.facebook.com/laurajanicekphotography/
Instagram: https://www.instagram.com/laurajanicekphotography/
YouTube: https://www.youtube.com/channel/UCO01WimxGglgEOnkichfQsA
(new!) Pinterest: https://www.pinterest.com/laurajanicekpho/
Laura Janicek Photography specializes in newborn portraiture as well as maternity and baby's first year portraits; serving the Middle Tennessee area including Brentwood, Franklin, Murfreesboro, Hendersonville, Clarksville, Spring Hill, Dickson, Smyrna, Nolensville, Hendersonville and more with a full service studio location in Brentwood, TN. Laura earned an 'Excellence in Newborn Photography' award from NewbornPhotographers.com, as well as a merit award from the National Association of Professional Child Photographers.  Laura Janicek Photography is proud and honored to be named as one of Nashville's Best Newborn Photographers and one of Nashville's Best Maternity photographers by Expertise.com.