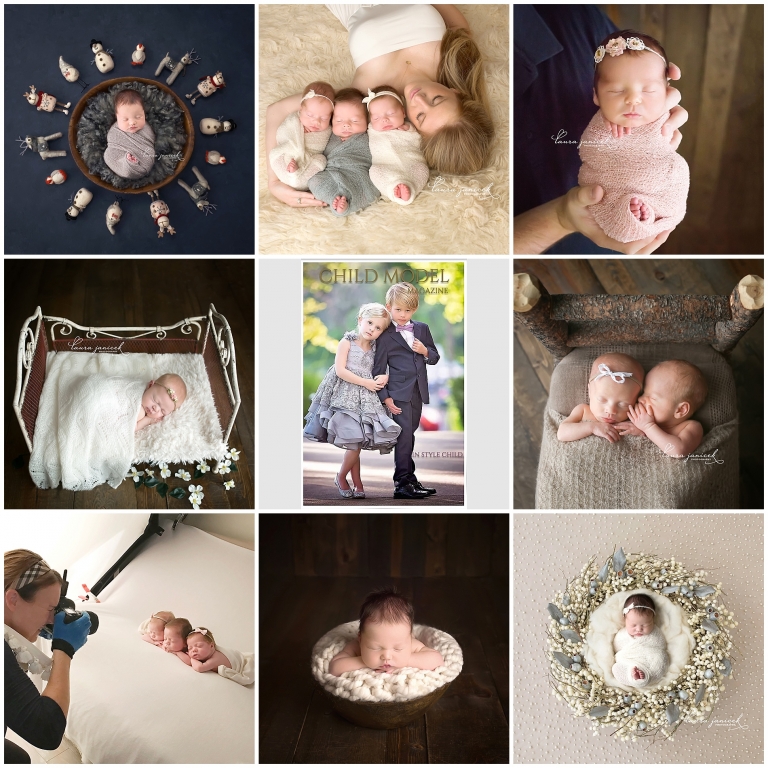 Looking back at 2017 and what a great year it was for my Nashville area based newborn photography business…  It was really fun to use the 'best nine' website to determine what my top Instagram posts were for my baby business this past year.  And here they are!  As expected, pictures of my littlest babies tend to be the most popular.  🙂
One of my popular session posts this year was for country music singer Jason Aldean and his wife Brittany.  I didn't know they were coming in as someone else booked their session for them under her name.  What a surprise!!  I didn't announce my famous little client's pictures on my Instagram page, but he already had some very loyal fans who put two and two together and shared them on their Memphis Aldean fan page on Instagram  When fans of that page saw the pictures on my page, they liked them there too!  Therefore, two of my most popular pictures from 2017 were of adorable baby Memphis.
Pictures from my triplet baby session were my next most popular this year.  Not surprisingly-  triplets are three times the cuteness!   As I'm sure anyone can imagine, newborn triplets are quite challenging, but I just love the resulting pictures of these gorgeous babies (and their mama!).  While the mommy/ baby picture is one of my favorites from the session, my audience also really liked the 'behind the scenes' picture just as much!  I have to admit, it is cool to see myself working.  Thanks to Evie Lynn Photography for not only assisting with this session, but also taking the behind the scenes pictures for me!  You can see more from their session here: https://www.laurajanicekphotography.com/newborn-triplets-nashville-newborn-photographer/
The middle picture is obviously not my from my newborn and baby photography work.  My little Lexi does some acting/ modeling and like any mom, I often take pictures of her!!  I don't typically post her pictures on my business page, but this one was special as she and her modeling buddy (Oscar) were featured in Child Model Magazine.  We were so excited to have them featured and plan on doing some more modeling work together in the coming months.  It's so nice to have these pictures of my baby as she grows!
I love all of my top nine from this year and I'm so looking forward to seeing what 2018 holds!  Lots of new and returning babies and families are already on the calendar with more scheduling every week.  I love my job!  🙂
Are you looking for an experienced, specially trained and award-winning newborn photographer in the Middle Tennessee area?
Laura Janicek Photography is currently booking newborn, milestone and maternity clients into July 2018 with limited availability each month. Please contact me using the contact form at the top of the page (desktop) or the bottom of the page (mobile) to inquire or schedule your session!
Email: laura@laurajanicekphotography.com
Facebook: https://www.facebook.com/laurajanicekphotography/
Instagram: https://www.instagram.com/laurajanicekphotography/
YouTube: https://www.youtube.com/channel/UCO01WimxGglgEOnkichfQsA
(new!) Pinterest: https://www.pinterest.com/laurajanicekpho/
Laura Janicek Photography specializes in newborn portraiture as well as maternity and baby's first year portraits; serving the greater Nashville area including Brentwood, TN, Franklin, TN, Murfreesboro, Hendersonville, Clarksville, Spring Hill, Dickson, Smyrna, Nolensville, Hendersonville and more with a full service studio location in Brentwood, TN.
Laura earned an 'Excellence in Newborn Photography' award from NewbornPhotographers.com, as well as a merit award from the National Association of Professional Child Photographers.  Laura Janicek Photography is proud and honored to be named as one of Nashville's Best Newborn Photographers and one of Nashville's Best Maternity photographers by Expertise.com.