Hi there- I'm glad you're here!  I hope you're enjoying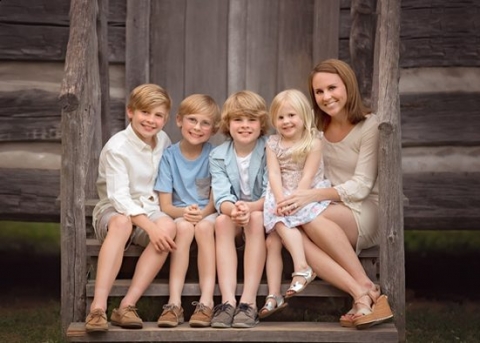 looking around my website.  🙂
I know what it's like to become a mom for the first time and every time after that.  There's nothing like it.  I have four awesome kids of my own, three boys and a little girl- all growing up way too quickly!  I feel like they were babies just yesterday, but they're already in preschool, elementary and middle school.  It is SO true when people tell you that they grow in the blink of an eye.  I feel like we're constantly marking the passage of time with birthdays, holidays and the beginning and end of the school years.  I really wish time would slow down!  My kids keep me super busy with all of their sports, activities and social lives, but I wouldn't trade it for anything in the world.  I love being their mom.  I just try to soak in as much of them as I can because they never stop growing and changing.  I will say, as much as I would love to go back to their early years, every stage with them has been a lot of fun.  Of course, my oldest will be going to high school next year, so I'm hoping I can still say every stage is fun!  😉
It is a privilege to help you celebrate and document one of the most unique and exciting times in your life.  I know that it can be tough to trust someone with your most precious gift, but I promise, your baby will be in good hands.  If you're interested in learning more about my sessions and pricing, please use the 'contact' link at the top right of the page or feel free to email me at laura@laurajanicekphotography.com.  I would love to hear from you!
You can also find me on Facebook at:
https://www.facebook.com/laurajanicekphotography
Thanks for visiting! Hope to hear from you soon!
Laura
Save
Save
Save
Save